One of our main aims in our workshop is cleanliness and order. We believe that an ordered environment provides the necessary structure and capability for providing superior workmanship. Just as important, our team is practiced in ensuring that the business works as a "well oiled machine", ensuring that each section of the workshop works harmoniously and in sync with the other sections.

Mototec Swakopmund is split into various work sections which work together in a congruent manner to ensure the efficient and effective delivery of repairs.

The Reception Area of the workshop is open plan with two friendly receptionists assisting and attending to client enquiries and needs. We also have an Onsite quotation service for Outsurance and are in the process of installing the Audatex system, which will allow us to provide the clients with an accurate quote while they wait in the comfort of the lounge area in the reception. Quotations are dealt with by a complement of highly trained and experienced staff that is qualified to assess the damage to the vehicle and calculate an accurate quote.

On entry of the workshop, no expense was spared when it comes to modern, state of the art machinery which is upgraded frequently and is maintained in top working order. Our Paint labs are both equipped with electronic paint scale mixers which enable our paint specialists to mix Standox Water- and Solvent - base paints to match colours to perfection. Our two Spraybooths are next to the two paint labs to allow easy access and is of the highest quality. The one booth is specially equipped for Water-base paint application with special dryers to cure the Water-base paint. Both spraybooths have a weekly inspection schedule and is maintained to very high standards to ensure a perfect paint finish. Our air is supplied by an Atlas Copco VSD compressor and is filtered through a filter and dryer system to ensure clean and dry air is supplied to all equipment and the spraybooths.

We have 6 Body repair areas where the vehicles are stripped, repaired and later assembled, equipped with the following state of the art machinery:

Car-O-Liner

Wedge Clamp System

Plasma cutter

Silicon Bronze welder

CO

2

welder

Spot welder

Gas welding machinery

Inverter welder

Dent puller

Induction heater

Two poster lift

Four poster lift
Moving along from the body repair areas, we have a Mechanical repair area, equipped with the following machinery:

Four poster lift

150 Ton Bosal press

3 Ton press

16mm Drill press

300 Nm Torque wrench
Once vehicles have been through stripping, body and mechanical repair it is send to the Paint preparation and finishing area comprising of a dry flatting area equipped with filtered extractor fans to eliminate dust and overspray. From paint preparation the vehicles go to the spraybooths for painting.

Our Polish area where vehicles are polished before final assembly is equipped with the latest in polish equipment and systems with special lights to highlight all the defects, if any, in the paint.

Mototec Swakopmund has its own Wheel alignment department equipped with the latest Corgi 3D wheel alignment equipment which is calibrated every 6 months. Regular updates are done to ensure that we have the data available to do wheel alignment adjustment to the latest vehicle models on the market. This area also doubles as a Headlamp focusing area equipped with a Technolux & Tecnoil headlight beam tester, as well as an Air conditioner refill area equipped with a Bosch ACS 611 refill machine with print facilities.

Our double, undercover Wash bay, which is located separately from the work area, is equipped with all the necessary cleaning detergents and trained cleaners to prepare vehicles for delivery to the client.

Together with section to section quality control, all vehicles go through a final inspection to ensure all repairs have been done to our high quality and factory standards.

All our work areas are enclosed under roof, protecting vehicles and the work process from seasonal elements. The workshop is protected by security guards and an armed reaction service at all times. We have adequate fire hoses and fire extinguishers which are serviced as specified by law. All our pressure vessels and lifts are serviced at the correct intervals and certificates are kept for inspection.


Lastly and most importantly, Mototec Swakopmund prides itself in the service and work it delivers, and all workmanship is guaranteed for one (1) year and carries a lifetime warranty on all paintwork.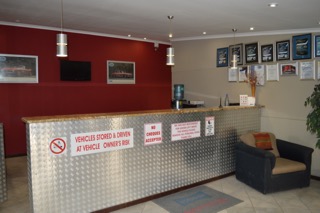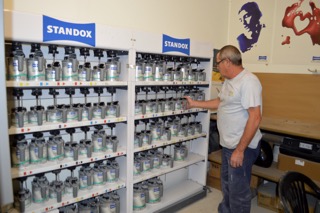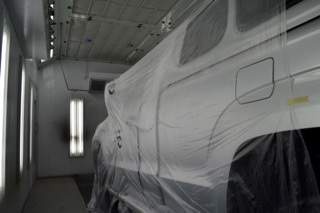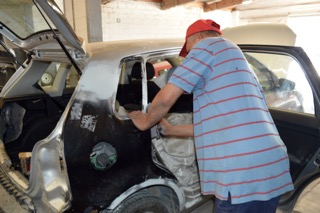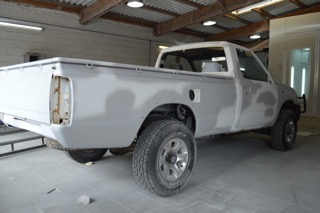 Paint Preparation and Finishing Area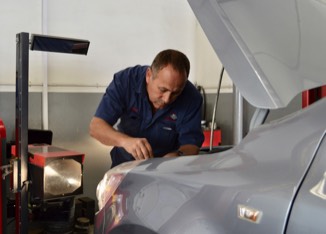 Headlamp Aiming Department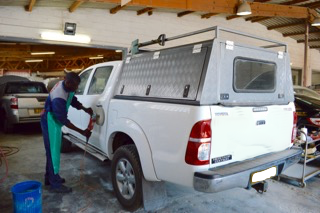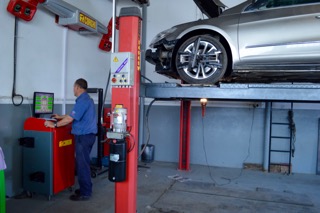 Wheel Alignment Department